Best Place Ever
I travel a lot and have stayed in so many places. I have to say Cottonwood was the best place I have ever stayed. The room was stocked, the bed was perfect, the tub was the best thing I have ever been in, and now I want to buy one!!! It was a short night — we left at 6am — so next time we want to go when we can go hiking. Thank you for making it a perfect night. — Tina
An Absolute Gem
An absolute gem! Highly recommend this gorgeous property, a serene getaway surrounded by prairie and yet just minutes from downtown Manhattan. The home is the perfect combination of rustic/historic, with all the comfort of modern amenities. No detail was overlooked on decor to create a relaxing space, with the beauty of so many touches throughout the home. The outdoor courtyard and patio area is the perfect place to unwind, especially in the evenings with sounds of nature as the backdrop. There are trails to explore and canoeing on Wildcat Creek. Becky was an amazing and gracious host. We are already planning our next visit! — Renee and John
A Priceless Gift
You have created a truly graceful place with an exceptional excellence that kept giving us unexpected surprises at every turn. Thank you for your personal kind and warm welcome. You made us feel very special and right at home. Prairiewood's Willow Suite at HomePlace and its offerings were as though everything was prepared lovingly with us in mind. Loved, loved the towels and bedding. The beautiful crocheted wool blanket is a perfect finishing touch and I enjoyed using it very much. Prairiewood is a priceless gift indeed. Thank you for sharing your place with us. We will cherish our time in both private and outdoor spaces for years to come. We are most grateful. Thank you. — Jim and Judy Oltman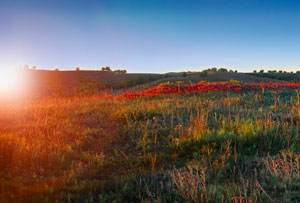 Manhattan's Best Kept Secret
As beautiful as the pictures are, they pale in comparison to the majestic beauty and tranquility this retreat offers. The staff was VERY helpful leading up to, and during the entire wedding event. Our out of town guests were simply blown away, and our local guests were shocked to learn that such a wonderful place has been right under their noses all this time. All of our guests who had been to Prairwood in the past were again impressed. Prairiewood shouldn't be Manhattan's best kept secret, it should be widely known, used, and appreciated. Worth. Every. Penny. — George M.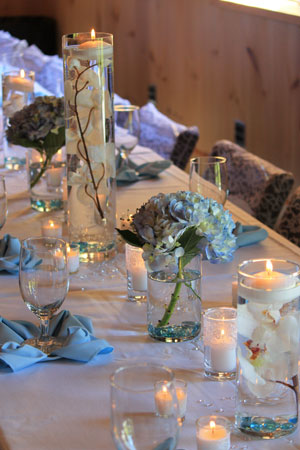 The Event Is Tailored To You
We received many compliments from the guests about how beautiful the meadow and barn were. Our wedding party loved that they could stay there all weekend. The grounds were beautifully kept. I was amazed that when it stormed on Friday night before the wedding, landscapers were out the next morning cleaning up and making everything look perfect. Our whole experience was amazing from interacting with employees in planning for our event to when arrived and were welcomed with a plate of homemade cookies and bottle of wine, to when we checked out on Sunday. I would definitely recommend this venue to anyone getting married or who is having a special occasion and wants their event tailored to them. — Katie G.
Always Take The Extra Night
It was the perfect weekend! We had MANY guests enjoy the RetreatHouse and all the amenities! We took nightly walks up to the top to watch the sunset! Many hours in the pool and so much more! Awesome is the only word that comes to mind when I think about our stay! Thank you so much!
P.S. Always take the extra night, it's so worth it! — Mr. and Mrs. C
Every Penny Well-Spent
Our stay at Prairiewood was absolutely perfect. There is not one thing I would have changed! Before our stay, I felt that the venue was very expensive, but after, I felt that every penny was well-spent. I received hundreds of compliments from my guests about the venue. The staff were very helpful and always easy to get in contact with. The property is extremely well-maintained. I am so thankful to be able to get married at Prairiewood. — Megan N.
Amazing Wedding Day!
We had such an amazing day! Everything went so smoothly, even the DJ said it was one of the most perfect weddings he'd been to in that regard. I'm so glad we found out about Prairiewood so we could have a unique experience in Manhattan and totally had the wedding of my dreams! Thanks for everything; you, Vicky and the rest of your staff have been wonderful! A couple of our friends have their reception out their next weekend and we can't wait to come back! — Rachel and Joe
Rustic Elegance
The Stone House is rustic elegance. Your literature and pre-stay comments were spot on. We wish you had a smaller venue for smaller groups. The open barn structure was delightful for glimpsing the moon and watching a heated bocce tournament on the lawn with the twinkly lights as backdrop. I am not a hot-tub person, but the tub was so clean and perfectly sighted; it got more use than I ever would have imagined. The Stone House interior space is so beautifully designed and the flooring and furniture/accessory selection (blankets, plates, etc) made for a quality, clean and tidy feeling, calming environment. Just stunning. It suited our aesthetic. Love Love Love it. Regards, — Julie L., Denver, CO
Most Beautiful Home
This was the most beautiful home we have ever rented. Our weekend could not have gone better. We have lavished praise to everyone we know and are already planning a return trip for next year. — Peter R., Kansas
Landscaping, House, Barn, Etc!
Everything was great! Beautiful scenery, landscaping, house, barn, etc! Nearly all of our guests that we talked to mentioned how beautiful the venue was! We are so happy we went with your venue, as our family and guests had so much fun at the RetreatHouse and barn! You were all fantastic to work with and we will be recommending you to everyone we can! — Kris G., Manhattan, KS
Perfect Weekend
The entire weekend was perfect - we and our guests thoroughly enjoyed the entire experience and would do it again in a heartbeat!!! Thank you for such a wonderful weekend! — Kari B., Houston, TX
Site Unseen!
Becky was very eager to try to accommodate our needs even as they appeared to change slightly. I always felt as if she was trying to get to "yes," someway, and I really appreciated that. Since I was planning our wedding from Mississippi, I did not have an opportunity to see the RetreatHouse until a few days before the wedding. The place exceeded our expectations and those of our guests. I also thought working with Prairiewood via email and phone worked out really well because the entire team was so responsive with their communications. The overall experience was excellent, and if we have a chance to visit again-we will! — Yasmeen W., Mississippi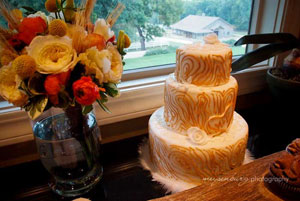 Gratitude
This place needs no superfluous adjectives - once you see it your are sold. Every little thing about the retreat made our wedding turn out better than even we expected! I think the best way to sum up our experience is that every single guest told us what an incredible place this is!. I overheard several out-of-state guests planning a way to return to Prairiewood in the future. — George amp Cary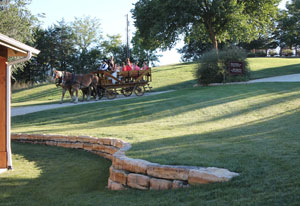 Loved our Wedding
Loved loved loved every moment of our time at Prairiewood. Communication prior to the event was outstanding and everything was absolutely perfect while we were there. They truly have thought of everything needed to make it a retreat and our friends and family were very impressed with the property. It was the perfect venue for our wedding. It encompassed the destination I had wanted with the Kansas charm my (now) husband had wanted. Well done, Prairiewood! We cannot wait to come back and celebrate an anniversary one day! — Grant and Ashton H., Kansas City, MO
Discovered Prairiewood Online
We discovered Prairiewood online over a year ago. Impressed by what we saw we planned our family gathering to celebrate an 80th birthday. Families from five states gathered and enjoyed the quiet natural setting along with pool, hot tub and expanse of the place itself. The service and concern for our welfare was second to none. We plan to return to Prairiewood again and recommend it highly. — Marvin and Dearwyn
Amazing
Everything about our stay was amazing. There is nothing that I would change! — Sara C.
Delta Sigma Theta Sorority
Prairiewood was made for a special celebration for the Geary, Riley, Saline Alumnae Chapter of Delta Sigma Theta Sorortiy Inc., as we celebrated our Founders Day and 100 years of service. — K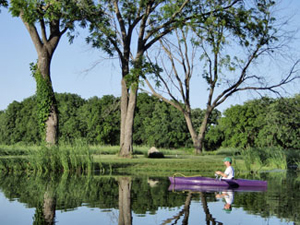 My Bachelor Party Retreat
This was the perfect venue for my bachelor party retreat with the guys. Wonderful weather and plenty of activities to keep us largley occupied for a couple of days. Thanks so much - Brandon
A Great Place To Celebrate
This was a great place for us to celebrate our wedding. We loved our time here and talking about coming back. Thank you for making this such an enjoyable place to stay! — Tim and Tanya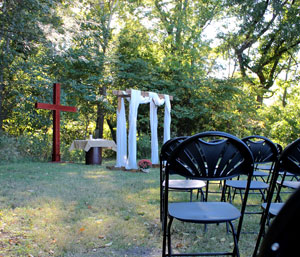 I Envisioned Prairiewood For My Wedding
When I envisioned my wedding day, this is exactly what I had in mind! When Jerrod and I got engaged I could not wait to come see the property. It was the most perfect day. The barn, the house and surroundings are amazing. Thank you for sharing your labor of love with the rest of the world. — God Bless, Traci and Jerrod
The Best Wedding Ever
Thank you for helping us with our dream wedding! We had multiple friends say it was the best wedding ever and it wouldn't have been if it weren't for such a beautiful and relaxing venue. — Josh and Jeska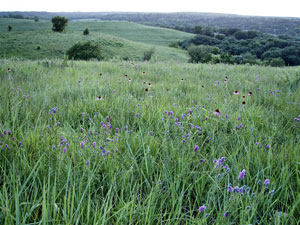 We Did It All …
We have slipped the surly bonds of earth and danced with green hills, grasshoppers, dragonflies and wind! Throughout our days at Prairiewood, we saw yellow, red, blue, back, tiny, large, finches, cardinals, nuthatches, swallows and wild turkey! We have listened to the quiet and caught our breath in long walks and treasured moments of reflection - alone and together. We have feasted on frit at as and lifted cups of goodness. We have laughed and cried - and felt this place to be, well, a holy one. We are grateful for these days together. — Friends From Ohio, Kansas, Texas, Arkansas, Pennsylvania and Washington, D.C.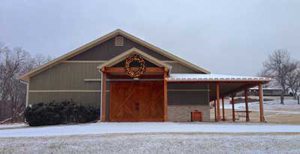 A Winter Birthday
We celebrated many birthdays with old friends and family - what a wonderful relaxing time. We ended our weekend with a five-year old's birthday party in the meeting room - what an excellent location for a winter birthday. We enjoyed our stay — Jacueline, Michael and Olivia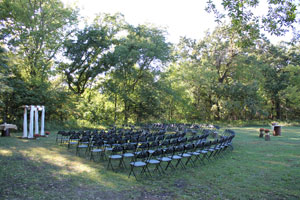 Perfect For Our Wedding
What a perfect day for a wedding! Beautiful weather and a beautiful setting. All was so wonderful to have the property for the weekend, so friends and family could relax and enjoy each other while preparing, rehearsing, and finally attending the ceremony.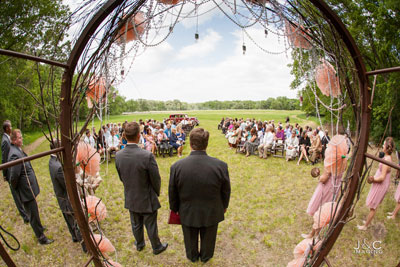 Wedding Activities In One Place
We had a wonderful wedding weekend at Prairiewood. Everything from our rehearsal dinner, ceremony, reception, and brunch was so great. Having one spot for everything was perfect. Our wedding day was beautiful, thanks in big part to the stunning setting. — Mr. and Mrs. Andrew E.
Unforgettable Kansas Experience
We celebrated our 9th Bi-annual Family Reunion at your delightful Prairiewood. We cooked on the grill, hunted frogs in the creek, caught fish in the pond, hiked through the hills, swam in the pool and bonded like never before. The weather was perfect. The house was amazing … we didn't want to leave. Thank you Kail and Becky, for an unforgettable "Kansas" experience. We will be back! — The Hay Family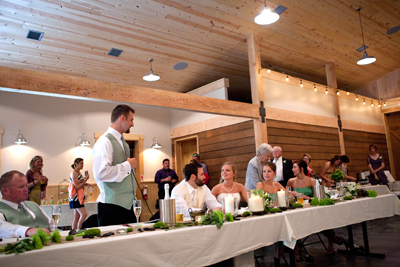 Wedding Reception Weekend
We had an absolutely wonderful wedding reception and weekend. We had so many compliments on how wonderful this place is! Thank you for allowing us to enjoy ourselves in such a beautiful place. — Bryan and Mollie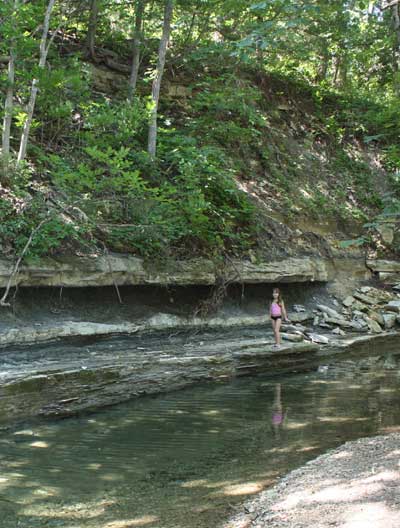 Paradise In Kansas
What a wonderful "Shangri-la", it is in competition with paradise. This has been a memorable 80th Birthday gift, one which will remain as a fond memory for the rest of my life. The people of Kansas are unique, always friendly, and ready to lend a helping hand. May they always remain that way. — Royce and Martha W.
Something For Everyone
We loved every minute with our dear friends at this magical place! No one wants to leave! Something for everyone and more. Thank you so much for sharing your resort with us for a much enjoyed weekend of fun! — The W Family
Plenty of Room
From start to finish totally enjoyable, but too short. Our family gathered from Colorado, Wisconsin, Indiana and Oklahoma - eight adults and three kids for a wonderful time. Weather was great for hiking, outdoor games and throwing rocks in Wildcat Creek. Plenty of room for privacy and indoor entertainment. We hope to make this a family tradition. — The M Family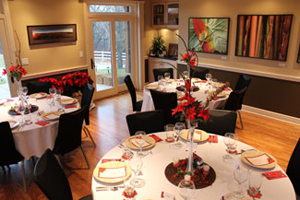 The Turkeys Were An Added Attraction
My daughter wanted to spend her wedding here for pictures and wedding prep. It was perfect for the bridesmaids, hairdresseres and make-up people. The family had space, too. It was a gorgeous day for pictures. We had a family brunch for 75 come and go. Everyone wants a return visit. We had a BBQ one night by the pool. Beautiful setting and accommodations! Loved our stay … The turkeys were an added attraction. - Pam and Vic, Quinter, KS
The H.E.E.L.
What a blast! This is our 3rd time here and it keeps getting better! What a wonderful venue for the H.E.E.L. "The World Silent Shoe Auction and Mixer." We can't wait to come back! — Jacquie G.
Perfect Family Gathering
What a great time here in the Kansas hills for a family gathering. The facilities were outstanding! Enjoyed the vista - especially in the evening, even the weather was great. Thanks for Kimberly's great help! We enjoyed it all! — The Meckals
Good For The Soul
What a heavenly weekend! Nothing like fresh Kansas air and sunshine, and a group of fantastic women to refresh the soul. Perfectly organized. Gorgeous inside and out. — Annie L., Connecticut
Can't Wait To Come Back
Heaven! Just a slice of heaven. The attention to details in the house - the wonderful beds, bedding, lighting, etc. - all geared to the comfort of the guest - only enhances the total experience. And … every window holds a gorgeous view of our beautiful Flint Hills. I cannot wait to come back. — Anne H., Manhattan, KS
Prairiewood Pampers
Prairiewood is such a unique retreat and glorious way to enjoy the Flint Hills beauty in a very personal way. Prairiewood pampers in every way - the amenities and beauty of this retreat make it all understated elegance. I can't wait come back. — Anne B., Leawood, KS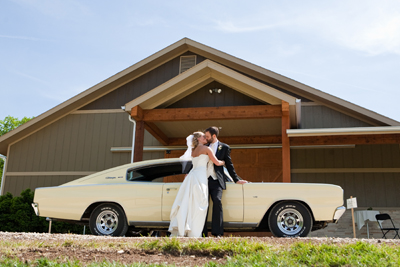 Beautiful Wedding Location
We celebrated our wedding at Prairiewood. Everything was absolutely wonderful. It is so beautiful out here. We couldn't have picked a more beautiful location. Kimberly was so helpful throughout the entire process. We can't wait to come back. We plan on celebrating our first anniversary here! — Mr. and Mrs. Chase E.
A Fabulous Getaway
A fabulous getaway whether you are from around the corner or across the country. Great place for our family weekend. Thanks for everything!
A Perfect Way To Showcase The Flint Hills
I wanted to write you this email to thank you for sharing your wonderful Prairiewood Retreat with us. My family was joined by several others at Prairiewood last weekend. We were looking for a place to spend a long weekend in Kansas and Prairiewood was perfect. As we told Kimberly, our group absolutely loved the place. We loved the flora and the fauna and the house itself is beautiful.

The pond was so relaxing and our group caught (and released) a number of fish – including a huge bass (who knew they could grow that big in such a small pond?) And on Saturday night we saw a giant bonfire nearby (made us all think of s'mores). The trails were also beautiful – several of our numbers saw the cows (and this, of course, is a rarity in the suburbs in which we live). We also saw some big deer and some turkeys too. We had fun hiking through the creek and getting our shoes wet – lots of great rocks for the kids to find and many toads, frogs and small fish too. The spring fed water was so clear and cool!
I also wanted to let you know how much help the staff was to me in putting the details together – responding to my many emails and phone calls and in meeting us there and giving us a tour of the property. They shared many ideas with us to help us make it a perfect weekend.

I am a lifelong Kansan who has spent too little time in the Flint Hills and this was the perfect way to showcase it for our kids and to spend time with friends. We count ourselves very fortunate to have found Prairiewood and each of us took a brochure to share with friends and business associates.

I think you all have done an outstanding job in putting together a unique place for business or family or friend retreats. The setting is beautiful and the view is stunning. Thank you again for sharing this with the public and with us. — Patty B., Kansas City, MO
We Love Prairiewood
We love Prairiewood! What a great place to gather. Our group was a mix of Texas "K-Staters and Texas "Nebraska Cornhuskers"!! Thanks so much for such a nice place to stay in Manhattan!
Gorgeous!
GORGEOUS Retreat! We surprised our mom for her 80th birthday and her weekend could not have been better! Families from Kansas, Missouri, Oklahoma, Ohio, California and Wisconsin spent the weekend swimming, touring the prairie, playing in the creek, fishing in the pond, playing pool, enjoying the peacefulness and cows and wildlife...just having a wonderful time together. With its proximity to Manhattan it was easy for those who could not stay overnight to come and go throughout the weekend. The house was beautiful, including a kitchen with everything we could possibly need! We turned the conference room into a dorm room for some of our younger generation and that worked perfectly! Kimberly was very helpful with any questions we had as we planned our surprise. Kail, the owner, was so friendly and informative as he drove us through his prairie trails! Four generations celebrating our mom/grandmom/great-grandmom together … we could not have chosen a better place!
Successful teacher's retreat
What a wonderful teacher's retreat we enjoyed in this lovely location. It was so pleasant, productive, and perfect. All 16 want to thank you so much for a lovely stay! — Heather E.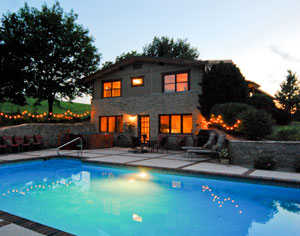 A Graduation With Four Generations
Celebrating Vet School Graduation, family-style! Gathering from Arizona, Minnesota, Iowa, and Kansas. We enjoyed the beautiful Flint Hills with 4 generations. Thank you for providing us with such a lovely location to enjoy. Many thanks! — Carole H.
We Wouldn't Change A Thing
You guys ROCK! Fifteen of us stayed here for my son's wedding in town. We had Rehearsal Dinner here and everyone was blown away by the entire property. There isn't a single thing any of us would change. This retreat is stunning and amazing, and Kimberly is fantastic. Thank you so much for such a wonderful idea and home. We will definitely be back if you will have us. Love the Sirius Radio, wow! Thanks a million. — Becky W.
A Wonderful Place To Spend With Friends
What a wonderful place to spend a weekend with friends. The location could not be better. One could easily feel he is deep in rural Kansas and not mere minutes from Manhattan. The accommodations are first rate with everything one would need for a totally relaxing and luxurious stay. — Salih D., Topeka, KS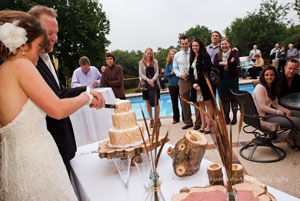 The Best Reception Ever
Marriage reception gathering for Chris and Laura. Guests said this was the best reception they've ever been to. We enjoyed the pool, sound system, pool table, foosball, b-ball, sunset viewing on top of hill. The wildlife was great – wild turkeys, deer, woodpeckers, hummingbirds, chickadees, nuthatches … We loved it here!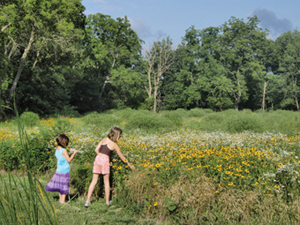 Something For Everyone
Prairiewood is great because there is always something to do for teenagers. The big screen TV, the pool table, lap top computer, foosball table and the swimming pool. I went out hiking every morning on the nature trails. The views were awesome! I encountered groups of wild turkeys every day during our time we spent at Prairiewood. The nighttime swims were great with the clear skies to see the stars. I very much liked the automatic baby grand piano – I would sit and listen for hours. Thank you Prairiewood! — Nadiya K., Loveland, CO
One-of-a-kind birthday
How many opportunities do you have to celebrate your mother's 100th birthday and do it with unforgettable elegance and style? With relatives arriving from Oregon, Oklahoma, California and all parts of Kansas we were looking for something more intimate than the typical dark church basement or sterile hotel banquet room. Prairiewood was definitely the answer. Cousins from afar could have their choice of state-of-the-art bedrooms while cousins from nearby could come for the day, reminisce and enjoy the occasional deer, turkey or coyote that came to pay their birthday respects. The inside ambiance mixed with the prairie setting made mom's 100th one of a kind. — Sue M., Manhattan, KS
Five-Star Service
We had a wonderful opportunity to host a retreat for women financial advisors from all over Kansas at Prairiewood. The location was a huge draw for people to come. There was a lot of curiosity about an unusual setting that was so different from the usual conference room setting with no windows. In fact, right before we had sandwiches for lunch, we looked outside the window to see a big tom turkey come over the crest of the hill like he was planning to join us for lunch. Apparently he didn't realize turkey was on the menu!
Kail provided a really fun experience for us with a guided nature hike through the prairie after lunch. The staff was wonderful and attentive in the planning phase, during the event, and was sincerely interested in our feedback after the event was complete. We certainly received the kind of service you'd expect at a 5-Star hotel. In fact, I've stayed at 5-star hotels who could take lessons from the folks at Prairiewood! — D.C.H., Manhattan, KS
Perfect For Family Reunion
What a wonderful place for our family to have our first family reunion! The house is beautiful, comfortable, and has everything we need. Maybe someday we can return to enjoy again. Thank you, thank you. — Janet R.
Great Place For Vacations, Social or Office Functions
I liked Prairiewood for many reasons. The home was very clean! There was plenty of dishes, silverware, coffee cups and the kitchen had the latest modern appliances. The towels and sheets were of very good quality. Anything we needed was there for those just in case scenarios. The pool was warm and very nice. During our stay a huge storm blew in. The owner came by and made sure we were OK. He had someone over cleaning the pool from the leaves that got into the water from the storm an hour after it happened! Everyone had a good time – we would stay at Prairiewood again in a heartbeat! A great place for a vacation, social, or office function! — Lya K., Loveland, CO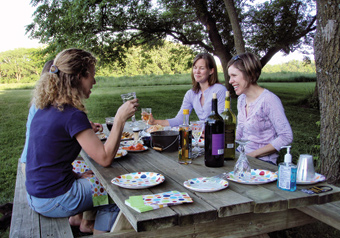 Everything We Needed
What I liked most about Prairiewood was that it was less than 5 minutes from the city, but yet totally private and isolated. At night you could see the stars as we were doing the nighttime pool swims with the family. Seeing the meteor showers on the clear night skies were awesome! I enjoyed the kitchen, everything we needed was there, including the a Panini grill maker – it was the best! We made hot Panini grilled sandwiches for two lunches and one dinner during our stay. I also enjoyed the top-of-the-line commercial dishwasher that did dishes in about 3 minutes – it took us less than 15 minutes to clean up the kitchen, dining table, including washing and putting away all the dishes, cups and silverware! This allowed us to spend more time having fun than waiting on the dishwasher. The only thing we did not do is grill out during our stay, but there is always next time — Jeff K., Loveland, CO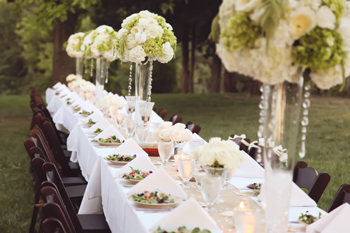 The Ideal Setting
Prairiewood was the perfectly ideal setting for our "Rest for Marriage" retreat. The combination of a well-equipped guest house, beautiful scenery, and wonderfully accommodating staff made it simple to host a group of couples desiring time away together to rest, refresh, and renew. The uniqueness of the guest house is that it can allow for formal gatherings, shared meals, and casual spaces to relax and have fun while also providing plenty of privacy for group members during their stay. The feeling of being "away", yet close to Manhattan is priceless, making Prairiewood a very desirable setting for private retreats and meetings. — Jeanette S., Manhattan, KS